Top 10 Irish Beaches to Visit
Ireland's Top 10 Beaches to Visit
Best Irish Beaches For Beauty
1. Inchydoney, Clonakilty, Co. Cork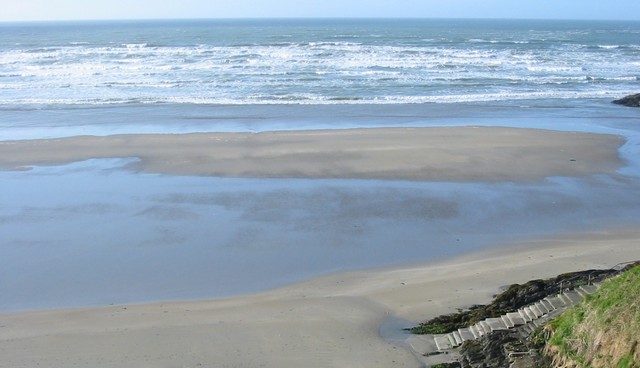 Inchydoney beach is located on Inchydoney Island which is connected to mainland Ireland by two causeways. The beach is sheltered by land on three sides making its waters calm, perfect for swimming with kids. With its wide beach and turquoise ocean, it's easy to see why Inchydoney is often thought of as one of Ireland's most beautiful beaches.
The nearest town to Inchydoney beach is Clonakilty.
Activities:
Inchydoney is home to Inchydoney Surf School and is brilliant for beginners. Cork also boasts Atlantic sea kayaking with moonlight kayaking packages available. If water sports aren't your thing, why not head to Inchydoney Island Lodge and Spa for a relaxing massage.
Food:
Scannels Bar, Clonakilty: A homely pub offering fresh seafood. Scannels serves innovative gastro-pub food and pride themselves in their use of local ingredients. Their menu changes daily so you know it's fresh. Visit their website here.
Deasy's Pubs and Fish Restaurant: Deasy's offers a relaxed atmosphere perfect to end a long day at the beach. They specialise in fresh fish bought daily and cooked to perfection. They add a twist to classic dishes using interesting sauces and dips.
Access:
There is no access to Inchydoney by public transport. For those in cars, Inchydoney Island lies past Clonakilty. Parking is available by the beach.
2. Keel Beach, Achill Island, Co. Mayo

Keel Beach is widely regarded as one of the most magnificent beaches in Ireland by locals and tourists alike due to its stunning scenery, clear water and fine sand. The beach is a 3km horseshoe and has a Blue Flag. The designated swimming area make this beach a great place to take young children.
Keel beach is close to the Keel. Doogert and Dooagh.
Activities:
The ocean at Keel beach is perfect for watersports including sea kayaking, wind-surfing and bodyboarding. There is also the possibility for beginners to learn to sail, windsurf, kayak and more at the freshwater late lying just behind the beach.
Food:
The Chalet: After a long day of learning to surf, stop by the Chalet for some home smoked salmon or fresh seafood. If seafood isn't your thing, don't worry; there are plenty of other options. And if the amazing food and friendly staff weren't enough, the Chalet overlooks the stunning Minaun cliffs. Dinner and a view!
The Beehive: If you're not after a big meal, The Beehive is perfect. This quiet cafe-come-craft-shop offers some of the most delicious sandwiches and salads. But make sure you leave room for pudding; nothing beats a homemade Beehive cake.
Best Irish Beaches For Surfing
3. Rossnowlagh, Co. Donegal
Rossnowlagh is a 3km, Westward facing sandy beach with a blue flag. It receives waves that are up to 7 metres high. The abundance of surf schools lining the beach make it perfect for all surfer abilities from beginner to advanced. But if surfing isn't for you there's still plenty to do! The sand is perfect for sandcastle making. Rossnowlagh roughly translates to 'heavenly headland', and the magnificent views certainly live up to the name.
The nearest towns are Ballyshannon and Donegal Town.
Activities:
Surfing isn't the only water sport available: why not try windsurfing or kite surfing?. Water sports not your thing? Take a stroll along the Creevy Coastal Path overlooking the beautiful Donegal Bay.
Food:
Smuggler's Creek Inn: This warm and welcoming restaurant offers panoramic views of the beach. The menu is based on local Irish cuisine and has something for everyone, from fresh mussels to lambshank to butternut squash risotto. Visit their website here.
Blueberry Tearoom: This tearoom offers anything from a light lunch to a full, hearty meal. And of course you can't forget the mouthwatering puddings. The blueberry pie has been called the best in Ireland!
Access:
There is SIIT public transport daily from Ballyshannon to Rossnowlagh. The beach can be accessed by car.
4. Mullaghmore, Co. Sligo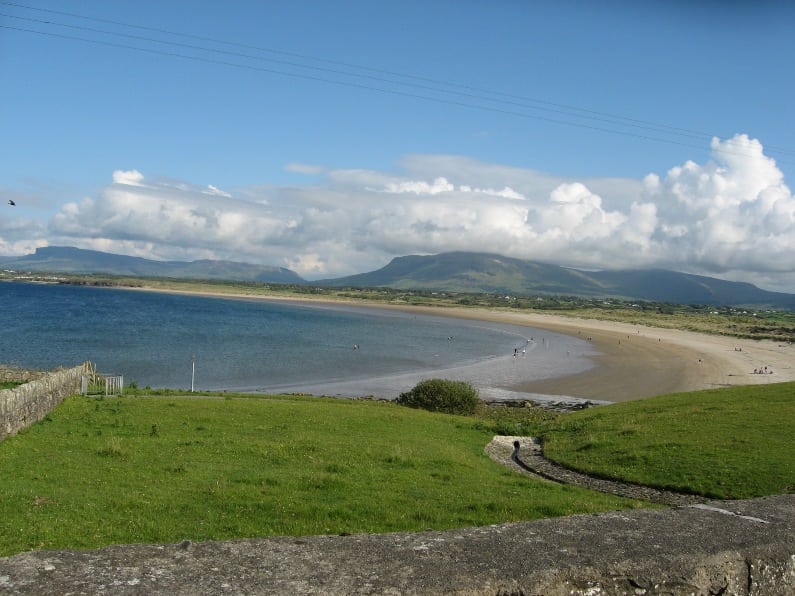 This beach is strictly for advanced surfers as the waves can reach up 15m highs, just 5 meters shy of the largest waves ever recorded. Mullaghmore is a firm favourite among surfers worldwide.
The nearest town is the fishing town of Mullaghmore.
Activities:
The main activities are surfing and windsurfing, but swimming is also possible. You can charter passenger boats to visit nearby Islands. Mullaghmore also boasts a number of Coastal walks for those who don't wish to get wet.
Food:
Eithna's by the Sea: This is an award winning seafood restaurant overlooking the Mullaghmore harbour. Seafood may be their main attraction, but the homemade scone with jam and cream is not far behind. Visit their website here.
Access: There are toilets and parking available. The beach is 25km from the town of Silgo.
Best Irish Beaches For Families
5. Brittas Bay Beach, Co. Wicklow

Brittas Bay is 5km, Blue flag, sandy beach. One of the main attractions for kids is exploring the dunes. The gentle ocean makes this beach perfect for swimming beginners. Not only is this beach family friendly, but it is also home to some of the most breathtaking views in Ireland.
This beach is close to Dublin, as a result it can be very busy in the sun.
Activities:
Kid friendly activities include dune exploration, sandcastle making and beginner surfing and kite-boarding lessons. For the adults, Brittas Bay is perfect for sunbathing and gentle strolls. You can even sneak away to the golf course for a couple of rounds.
Food:
The Bay Cafe: This cafe is ideally situated near the beach and has a cosy, relaxed atmosphere. The Bay Cafe offers light lunches and snacks as well as homemade cakes. Be sure to try the pancakes!
Brewery Bistro: If you're after more of a sit-down meal then this is the place for you. This rustic bistro offers a great kids menu as well as craft beers from the brewery next door for the adults.
Access:
There is a carpark by the beach charging 4 euros. There is a bus stop 2km from the beach.
6. Ballybunion, Co. Kerry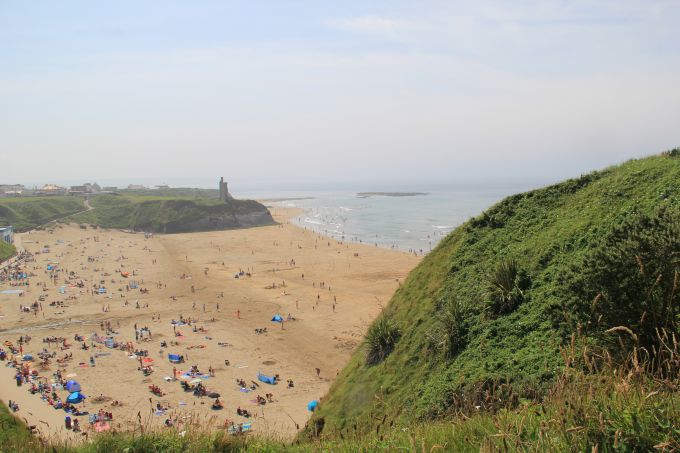 At Ballybunion, you get three beaches for the price of one! There are two sandy Blue Flag beaches that can be easily accessed: the men's and the ladies beaches. These are divided by cliffs and are north and south of the town of Ballybunion. Their names hark back to the times when men, women and children bathed separately. The third beach, Nun's Beach, gets its name from the convent overlooking it. This can only be accessed by a steep trail.
Activities:
Visit Nuns Beach by taking a stroll along the beautiful cliff walk. At the men's and ladies beach, swimming, surfing and other watersports are available, perfect for the kids! At low tide, the Ballybunion beaches are home to caves ready for exploring. If you feel the need for a time out, head to the seaweed baths for a relaxing treatment.
Food:
Lizzy's Little Kitchen: Lizzy is famed for her fun and vibrant flavours, as well as her cakes. This deli offers a wide range of healthy meals as well as sumptuous cakes. Be sure to try the homemade bread and chowder.
Daroka: The menu for this restaurant may be small, but this means that each item is perfected. It is the passion of the chef and warmth of the service that makes this restaurant. Visit their website here.
Access:
The North/Ladies beach can be accessed by steps with the South/Men's beach can be accessed by ramps. There is parking for both beaches. The Nun's beach can only be accessed by a steep trail.
Best Irish Beaches For Swimming
7. Curracloe Beach, Curracloe, Co. Wexford

Curracloe is a beautiful 11km stretch of beach backed by dunes. Not only is this beach perfect for swimming but it is also a must-see for any film buffs out there. Curracloe was the setting of the D-Day landings in Saving Private Ryan.
This beach is 2km from the village of Curracloe.
Activities:
This beach offers relaxed and calm waters for anyone to swim in. Its rugged beauty make this beach the perfect setting for leisurely strolls. The Raven Nature Reserve is situated behind the beach and consists of dunes and woodland. Take a stroll through the reserve while keeping an eye out for birds.
Food:
D'Lush Cafe in Wexford Arts Centre: Stop off for some delicious coffee and crepes. This cafe is perfect for lunch and they pride themselves in their use of fresh, local ingredients. Visit their website here.
The Forge Italian Restaurant and Pizzeria: This authentic Italian restaurant takes local Irish food and incorporates it into delicious, rustic Italian meals.
Access:
Curracloe beach is a short drive from the village and boasts three carparks. Two of these have toilet facilities. Ballinesker carpark is the most accessible as its entrance is flat.
8. Dog's Bay and Gurteen Bay, Co. Galway
These are two sandy beaches situated on opposite sides of a tombolo jutting into the Atlantic ocean. Both are well sheltered from currents so they are safe for swimming. The beaches are often compared to that of a Caribbean Island and as soon as you see the white sand (made from shells, not rocks) and turquoise water, it's easy to see why!
Activities:
Kayaking is available on both beaches. However, they are most popular for the swimming and sunbathing.
Food:
O'Dowd's of Roundstone: O'Dowd's search the freshest of local produce in a restaurant overlooking the Panoramic views of the Roundhouse harbour. Visit their website here.
Access: Parking is available.
Swimming Extra
The Cove, Clare Island, Co. Mayo


This may not be a beach but it definitely cannot be missed. This is one of the best coastal swimming spots in Ireland owing to its deep, crystal clear waters and peaceful surroundings.
Best Secret Beaches in Ireland
9. Tra Ban, Co. Kerry

Tra Ban translates to 'white sand', and this beach certainly lives up to its name. This beach can only be accessed by ferry as it is situated on the Blasket Islands. Be sure to look out for dolphins on the journey over.
Activities:
Once at the Island, you can relax on the beach or take on one of the stunning mountain walks. In September and October, thousands of grey seals descend on the Tra Ban along with their fluffy pups.
A trip to Tra Ban can be just for the day or overnight as campers are welcomed on the Blasket Islands.
Food:
Blasket Island now has its own tea shop serving up refreshments and freshly baked scones. But it is definitely worth while bringing a picnic to enjoy on the sands of Tra Ban.
Access: Tra Ban is accessed only by ferry.
10. Murder Hole, Co. Donegal

Please don't be put off by the name! The Murder Hole is in fact one of the most beautiful beaches Ireland has to offer. It can only be accessed at low tide by a challenging walk, but it is definitely worth the trip! The Murder Hole has an abundance of caves and cliffs to explore.
Activities:
Activities at the Murder Hole mainly include walking, sunbathing or picnic-ing. Swimming is not safe at this beach.
Food:
Be sure to bring a picnic with you, there is not catering at the Murder Hole.
Access:
The beach is accessed by a lengthy and challenging walk.